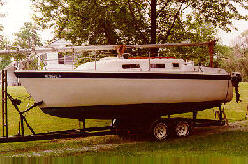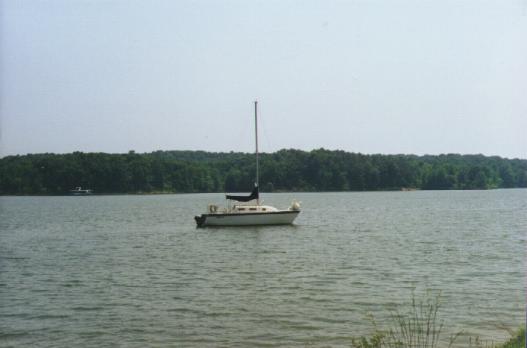 Rory Stauber, "Upbeat"
The largest of the Southcoast cruising boats, the SC 26A featured an unusual retractable bulb keel that, drawing only 22 inches retracted, allowed the boat to be easily launched and recovered from a trailer. The boat was designed by Jim Monroe. Mr. Monroe believes this boat served as a model for the Hobie 33.
The SC 26 is characterized by significant freeboard, allowing for ample storage for weekending and extended cruising. The sail plan included a small-ish main with a large foretriangle.
Factory layouts included a vberth forward, with quarterberths on either side. The galley is located aft on the port side with stove, sink, and icebox. The head is aft on the port side and included a hanging locker. A folding table stored against the keel trunk when not in use. Options included wheel steering and a OMC saildrive or Baldwin diesel inboard engine. Approximately 80 SC 26s were produced.
Specifications
LOA 25' 10"
LWL 23' 3"
Draft 22" up | 3'8" down*
Ballast 1470 lbs*
Displ. 4000 lbs (approx.)*
SA 250 sg. ft.*
* specifications vary between brochures
New photos from Gary Smith: Interior photo Salus at her mooring
Features (from a sales brochure)
The story of the SC 26A (typed document)
SC 26A under sail (brochure photo-check out the 70s look!)
Cusom interior photo from Rory's boat
1979 Price/options list complete
1979 Price/options list kit form
retractable keel trunk assembly